Some of you must be wondering what I carry in my pens every week! Well, I'll be posting what colors I keep in my pens every week from now on with a nice little writing sample!
The paper this week is HP 32lb Premium Laser paper found at Staples in a ream of 500 sheets! I printed college ruled spaced square dots on the paper myself (tutorial to come!) for regular use then punched it with a Staples ARC punch for my notebook.
Without further ado, here they are!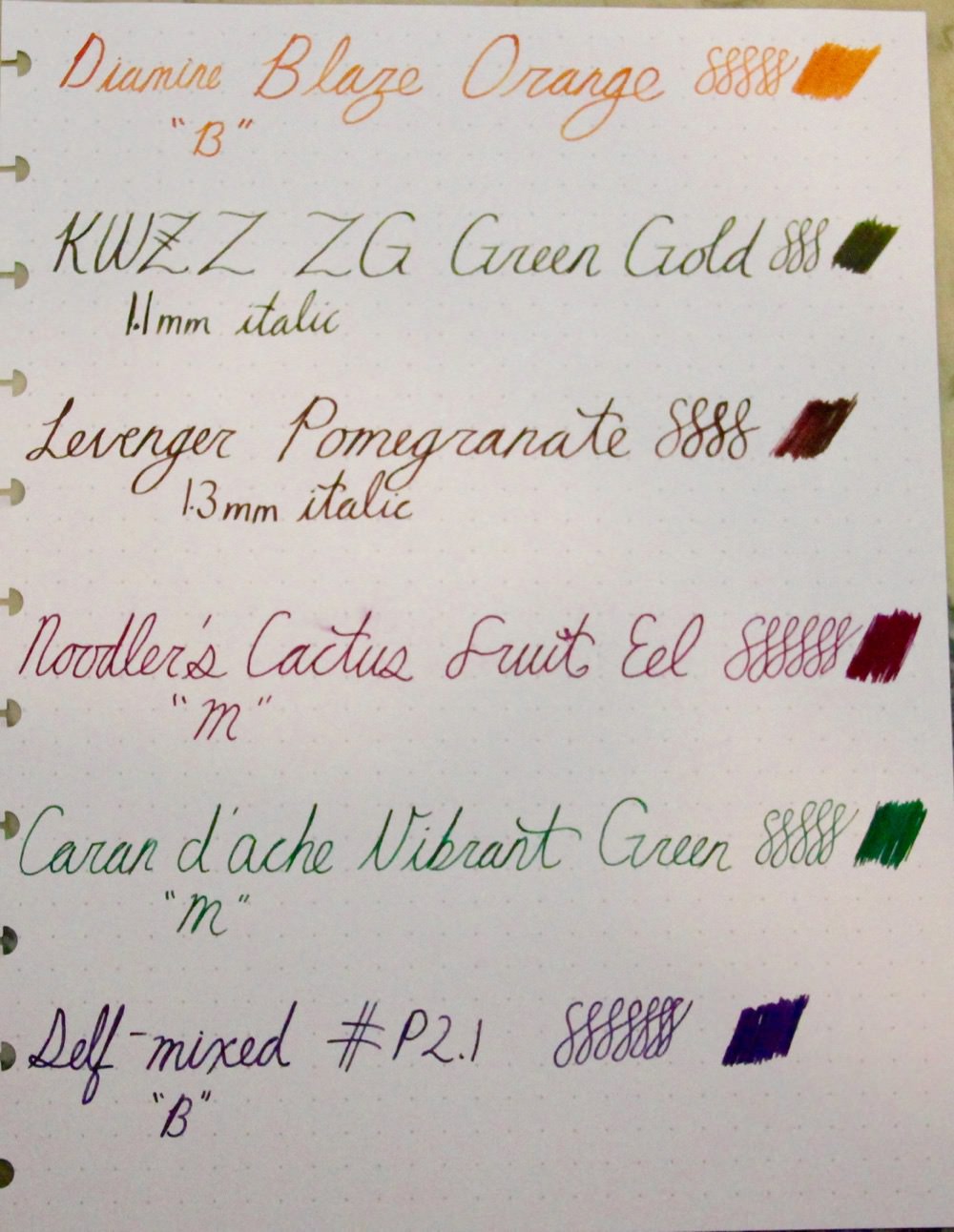 Diamine Blaze Orange - Just tried this one out! It is quite a bright orange with some shading but not too much. It can be a bit light at times.

KWZI Iron-Gall Green Gold - The small Polish ink maker, Konrad, released this iron gall ink a while ago. It changes color as it dries to a darker black from a light yellow-green.

Levenger Pomegranate - Levenger makes a nice line of fountain pen inks. This one is similar to Oxblood which I also have. Just got a sample of this one also.

Noodler's Cactus Fruit Eel - It lubricates pistons but I don't have it in a piston filler. Oops! Still is lubricating on the page though. Has a tendency to smear sadly.

Caran d'ache Vibrant Green - Super expensive ink! $35-40 a bottle! It's a lovely color, but the characteristics aren't too special in any way. It behaves well though but isn't worth full retail price sadly. The slanted bottle is very cool!

One of my self-mixed purple inks. Great shading, very well behaved, and highly saturated. Formula is 3mL of Diamine Hope Pink, 1mL Private Reserve Tropical Blue, 20 drops Parker Quink Black.
Here are some shots two of the colors up close!