We have open sponsorship positions on our blog as well as open advertisement spots. Please do not hesitate to reach us via email or via our contact form.
---
Advertisements
We offer advertisement space in the form of either large banner ads on the sidebar, written posts, or a combination of the two.
Banner ads will appear on all pages on the sidebar of the page.
Written posts will be full articles about your product or service
We do not offer ad tracking, but will allow embed Google Analytics to your site.
About Banner Ads
Our banner ads can display "above-the-fold" for all desktop devices. Displaying "above-the-fold" means that your ad will show up immediately when the page is loaded and readers will not have to scroll up to see your ad. Take a look at this image for a preview of an above-the-fold banner ad.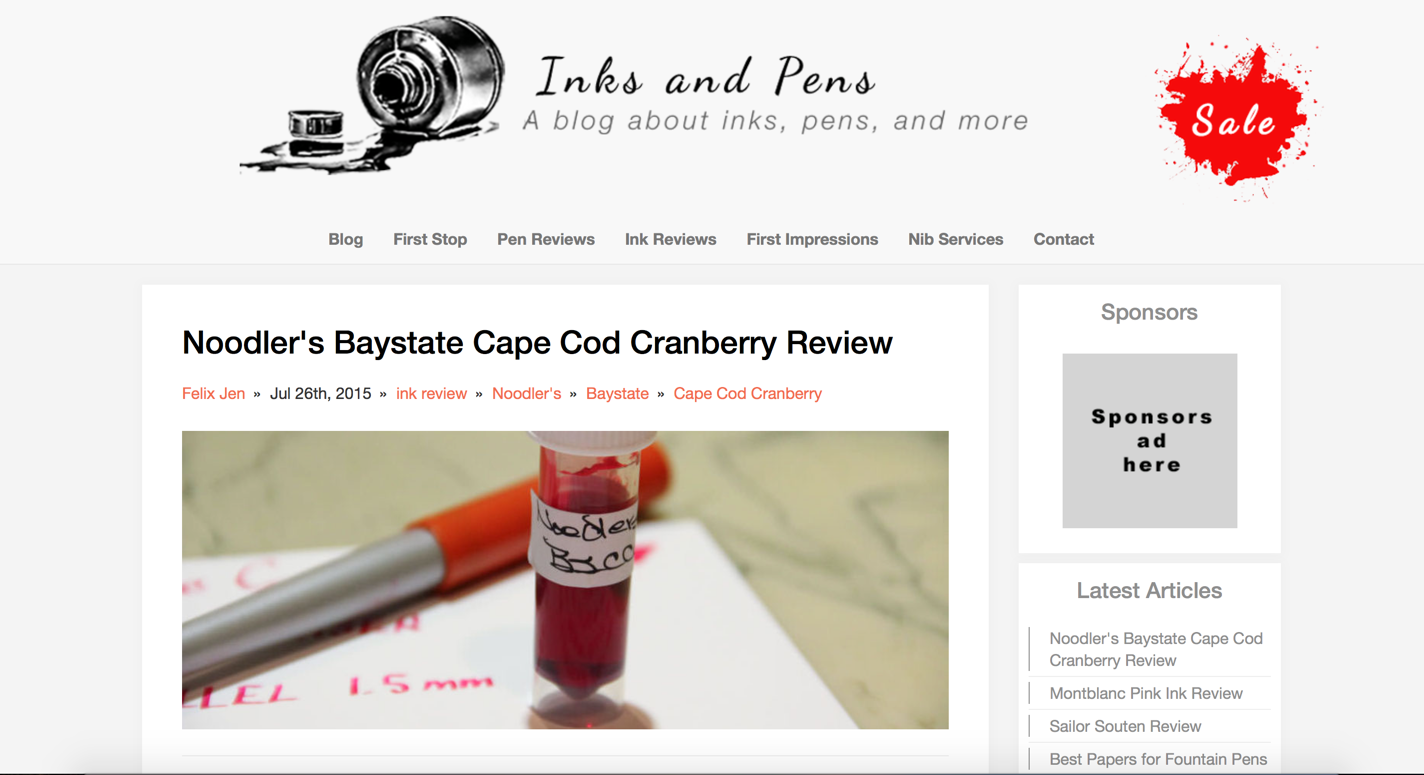 We offer two different tiers for banner ads.
"Above-the-fold" ads above "Latest Articles" measuring 175px by 175px.
"Below-the-fold" ads found under the search bar up to a width of 200px.
Email us for details and pricing.
About Written Ads
We offer weekly or bimonthly written sponsored posts advertising your product, page, or service. These posts will get sent to all RSS and email subscribers and will also be mentioned in our social media accounts on the day the post is published. The articles will be no less than 200 words and no more than 700 words.
---
Product and Giveaway Sponsorships
Product Sponsors
We are constantly looking for new and exciting products to talk about at Inks and Pens. If you would like to provide us a product to review, please contact us directly at [email protected]. We will provide an honest review of your product, mention your brand/company, and provide up to 5 links back to any page you wish.
For product sponsorships, please keep the following in mind:
Inks and Pens will only publish honest reviews. A product sponsorship does not guarantee a positive review. We will only express our honest opinions about your product
Sponsoring us with a product means that we may keep the product for our own personal use.
Please Contact Us if you would like to support us!
Giveaway Sponsors
Inks and Pens will occasionally hold small giveaways to thank our valued readers. All giveaways will also receive an honest review of the item and the item will be gifted to a randomly selected recipient among entrants.
Contact us if you would like to sponsor a giveaway!