Mention your FPN username to get 15% off all services!
---
Services
---
The Basics
The basic adjustments to your pen will get your nib in tip-top shape. We can turn any terrible nib into a nib of your dreams! Let us know your aim and we will try to achieve it!
Tine Alignment

$20
We align the tines of your pen as long as it is not in a mangled state. If your pen is writing scratchily on certain strokes but not others, it most likely needs tine alignment. This service is included in all nib regrinds and custom mods.

Nib Smoothing

$25
If tine alignment does not fix the scratchiness of your pen, then the nib will need to be smoothed out. The nib can be smoothed to various degrees, so please specify how you would like it on a 1-10 scale with 1 being a bit scratchy and 10 being glass smooth.
NOTE- Only start with this mod if you are 100% sure that the tines are aligned. If the tines are not aligned, you will be charged an additional fee for tine alignment.
Stubs/Italics
Stubs and italics provide an excellent amount of line variation with a thin upstroke and a broad cross-stroke. Both stubs and italics can either be tipped or untipped, with tipped nibs keeping the original factory tipping. The thickness of tipped stubs are limited to the size of the original factory tipping. For instance, if the original nib was a M nib, then the maximum width of a tipped stub is a M stub, with the cross-stroke being the same size as the original.

Untipped nibs do not have a size limitation as the tipped nibs do. Untipped stubs can be ground up to 2mm away from the start of the feed. Thus, they can turn very broad and wide, while still giving a very thin upstroke. For untipped nibs, please specify the size of the nib you would like, given in mm (millimeters). Common sizes include 0.6mm, 0.8mm, 1.1mm, and 1.5mm. For comparison, an M nib is about 0.5mm thickness.

Smooth Stub Regrind

$25
Stubs are have a large "sweet spot" and can be used for daily writing. They do have a little less line variation, with the upstroke being a bit thicker than italics.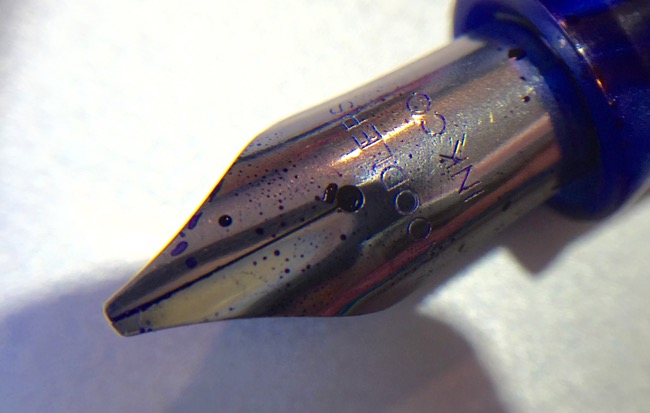 Cursive Italic Regrind

$25
Cursive italics provide excellent line variation while still being quite smooth. However, the sweet spot is a smaller than a stub nib. Can be used in daily writing, with care.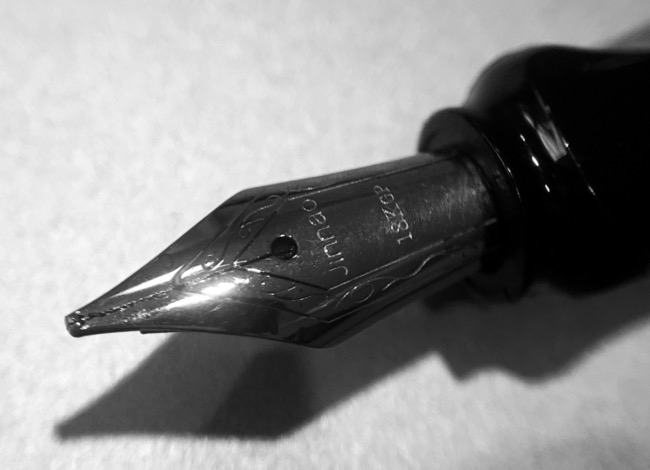 Sharp Italic Regrind

$25
Sharp italics provide maximum line variation possible, but end up being quite scratchy. The sweet spot is very small and is NOT recommended for the average user. It is more suited for calligraphy. A refund will not be issued if you find the nib too scratchy.
Size Reductions
We offer nib regrinds to smaller sizes, from a B to an XXF nib. The nibs must come as a round nib (not stub, without feet) and the original tipping MUST be bigger than the size you would like to grind to. If the grind is unable to be complete at the customer's error, the pen/nib will be returned back at your cost.

This service includes basic smoothing of the nib after grinding. Does not include any other modifications.
Grind down to B

$40
NOTE- The nib must start with a size greater than a B. This is not a retipping service. Does not work on stubs or italics. If you are unsure if a grind down to a B is possible, please contact us first.

Grind down to M/F
Grind down to XF/XXF

$45
NOTE- An XF and XXF nibs tend to be a bit scratchy due to their sharpness and size. If you are uncertain if you want this nib, we recommend trying for an F first, before an XF.
Custom Mods!
We can also do some of our custom mods on your pens! For these mods, it is best to send your entire pen and not just the nib as we may have to work on the feed as well.
Niagara Falls Mod

$55
The mod makes your pen extremely wet, but not to the point of pooling and leakage. This mod involves work on BOTH the nib and feed of a pen (if possible), so the nib must be removable. Please contact us ahead of time if you are not sure. Mod includes basic nib smoothing.

Mojave Desert Mod

$55
The mod makes your pen much drier, so it is suitable for extremely wet inks. This mod involves work on BOTH the nib and feed of a pen (if possible), so the nib must be removable. Please contact us ahead of time if you are not sure. Mod includes basic nib smoothing.
Postage
For postage, it is up to you on what service you would like the pen to be shipped back with. If you have no preference, the pen will be shipping back with USPS Priority Mail Flat Rate Small Box for a fee of $5.95. This includes $50 insurance and tracking. If you would like the pen insured for an additional amount, you must pay the extra insurance costs. It takes about 3-5 days to the Continental U.S.
Powered by 123ContactForm | Report abuse